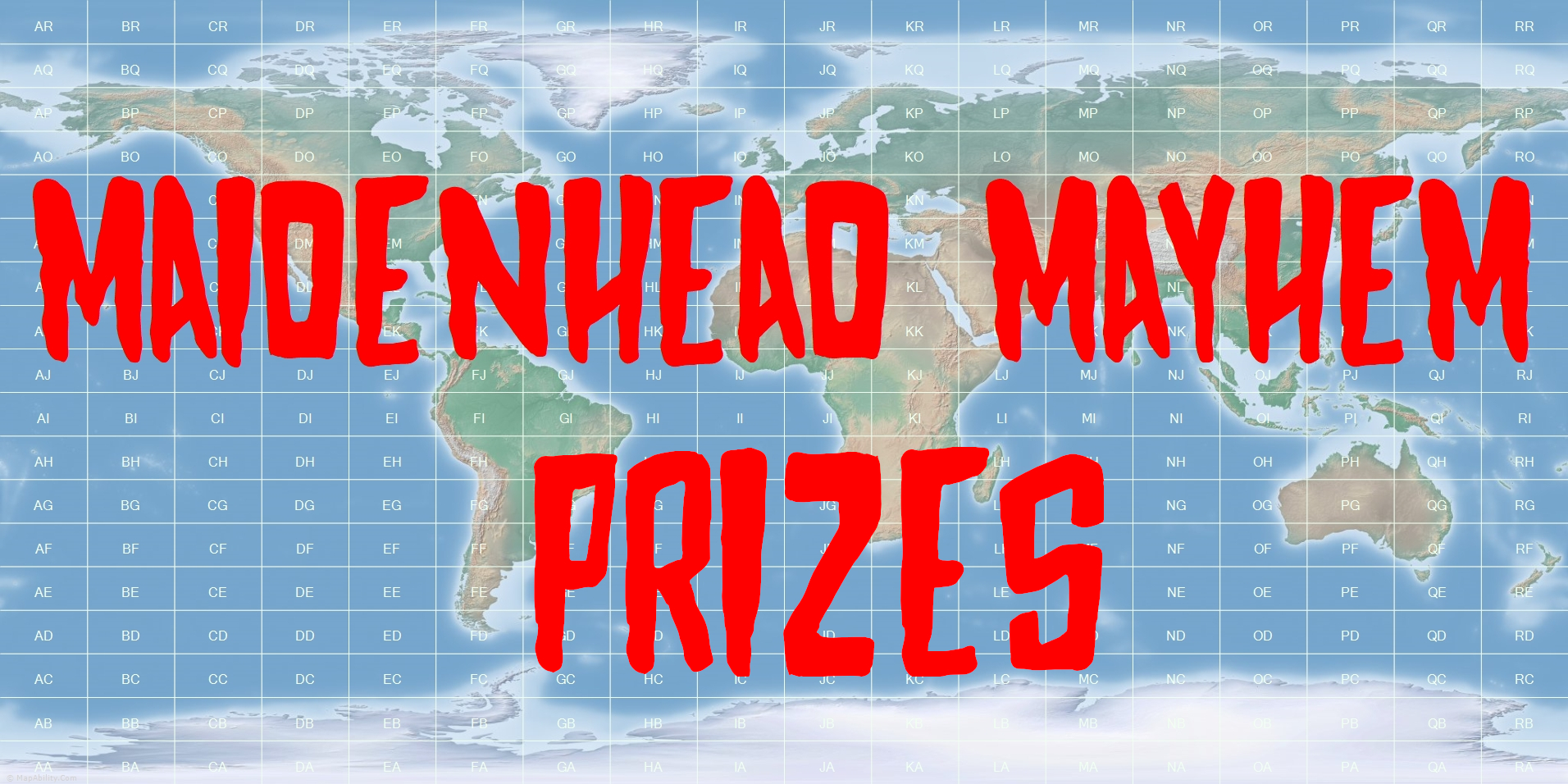 Welcome to the MAIDENHEAD MAYHEM PRIZE page!
These are the Prizes that were offered in the 2023 event.
Go to the Winners Page to see who won each prize!
When we get closer to the 2024 event, we will show what prizes will be offered for 2024.

PRIZE PAGE?

YUP! We told you that the MAIDENHEAD MAYHEM is a contest different from any other you have ever entered before!
Almost every contest gives you at least a certificate of some kind for placing high in the rankings.
Some contests give you a certificate for even just participating!
And in many contests if you take first place you often end up getting a nice plaque to hang on your wall!
And in the MAIDENHEAD MAYHEM we will also be giving out certificates.
And if any group wants to sponsor a Plaque for some reason, contact us.


Some of the MAIDENHEAD MAYHEM developers also came from the sporting world. And many brought up the thought,


Why are there no actual PRIZES that could be won in an Amateur Radio Contest?


We all had a HMMMM? Moment. Really? Why hasn't there been any? No one can remember any, that had a actual PRIZE!
Now was the thought WHY? Some contests are sponsored by LARGE groups, Maybe it is a LEGAL Reason?

So we did a deep dive into the Rules from the FCC that are for Amateur Radio. Part 97.
And we just could not find anything against the rules about getting a PRIZE for being in a Contest.
Just in case we missed anything, we also contacted the ARRL about getting a PRIZE for being in a Contest.
And they also agreed, they also do not know of any reason why it would be illegal to get a PRIZE for being in a Contest.

So, As we stated on the front page, This is a Contest most likely different than any you may have entered in before!
You May win a PRIZE!

How Cool is That?!


Now again, we keep making this contest different from any other contest. As in the others, Sometimes you get a certificate for just participating in the contest. The majority of the others give certificates for like the top ten.
And some contests even give Plaques to the Winners who take first place in the contest. Some Plaques are supplied by the contest sponsors, and in many the contest sponsors let people or groups outside of the contest sponsors, sponsor a Plaque.

Now, again, MAIDENHEAD MAYHEM, is different! Very Different. Prizes, Wow! But who gets the prizes? The Winners?
That is how it usually works in any sporting event. And this is RadioSport isn't it? But we feel that's Lame. Why?
The Prizes would end up going to the winners. A good chance, Stations that at least have already above average stations.
And most likely have a lot of the top of the line equipment. Do they really need more?

We really did not like this for some reason. Some of the developers suggested we bring back something from decades ago. Sadly it no longer exists, Sad.. But some of you old timers How many remember what probably was the first award you have possibly ever gotten? The Rag Chewers Club. For those that don't know that term, it is a very old term,
"Rag Chewing" is more or less the exact opposite of contesting. You are in contact with a station and just talk to them for a LONG time. You are Chewing the Rag. I guess that's better than Chewing the Fat, another term for a long talk.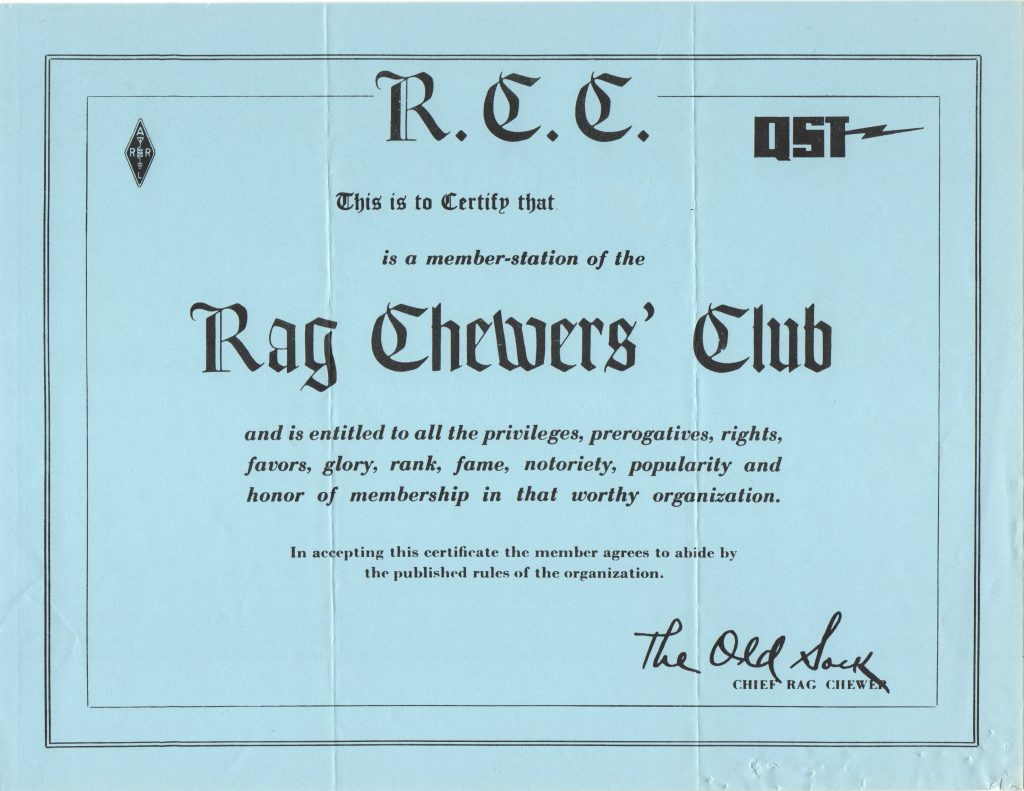 This award was usually received by the operator of an amateur radio station totally by surprise. It would just appear in the mail one day. They did not like any other award apply for it like W.A.S, DXCC, WAC, etc. The recipient, would just get it un-expectantly. To meet the requirements to get this award, you would have to be in contact with another station for at least 30 minutes or longer. Have a nice long chat. This is,, well,, was,, the ONLY Peer awarded award. Where A long 30 min or more QSO, happened. And one of the two in the contact was soo impressed by the skill, or at least by the demonstrated trying to do their best effort in making the contact, The persons "PEER" nominates the other station for the award. To show that their efforts are recognized.

Below here will be a listing of all the possible prizes. And below that will be a ballot.txt form that can be downloaded that will list all the prizes. Participants in the contest will be able to vote in their opinion and thoughts of who in the contest impressed them in one way or another, that they vote for this station to get this prize. The station that gets the most votes for one prize wins it. If it is a tie, then who has the bigger score wins it. The Prizes are awarded by your Peers! So be compeditive, but don't be a jerk either.
People will be remembering how everyone was on the air!


Now Remember! The prizes listed below are only awarded for the Main contest in July.

NOT

, in the Sprint in March!
Shipping of all the Prizes will be free to all prize winners in the USA,
Others will have to make arrangements with the prize sponsor for shipping.

So Far we have twenty six prizes to be awarded!
A Value of over $1870 Dollars to be awarded to those winners.

---
MFJ Is our first sponsor of Prizes for the MAIDENHEAD MAYHEM!
They have donated an incredible fifteen prizes! We are very Grateful for their Generocity!
Check out these incredible Prizes!










Prize #1,

MFJ-936C, Deluxe High Efficiency Magnetic Loop tuner.
Turn wire or coax into a small, high-efficiency multi-band transmitting magnetic loop antenna! Work the world from 3.5 to 30 MHz using a full 150 Watts on sideband, CW, and digital.

No ground, radials, or counterpoise needed.
A high-efficiency butterfly capacitor has no lossy rotating contacts.
Small magnetic loops are very quiet on receive. You'll hardly notice static crashes. The high-Q design reduces QRM, overloading,
and harmonics.

Includes and Easy-Carry handle, a mount for a PCV loop support,
and a tripod/mast mount.

Details at:
https://mfjenterprises.com/products/mfj-936c-deluxe-high-efficiency-magnetic-loop-tuner

Also Included with this prize is the,
MFJ-58B, PVC CROSS LOOP KIT, FOR MFJ-936C
The MFJ-58B PVC Cross Loop Antenna Kit, includes a PVC Cross Mount that plugs into the top of the Loop Tuner for individually mounting three separate 10-gauge wires (13, 7, and 4 ft in length).
A fourth, longer wire (28 ft in length) is also provided which can be attached to a bookshelf, curtain or other support. These four wire loops included in the MFJ-58B provide coverage from 60 - 10 Meters, or 5.330 - 29.700 MHz.

Details at,
https://mfjenterprises.com/products/mfj-58b?_pos=1&_sid=1ddc94799&_ss=rMFJ
---
Prizes #2 & #3,

MFJ-2010, OCFD, 40/20/10/6M, DIPOLE, 300W
Yes we have

TWO

MFJ-2010 OCFD Dipole Antennas

Ultra-Lite™ for 40, 20, 10 and 6 Meters, handles 300 Watts PEP SSB/CW. Perfect for low-profile, portable and QRPoperation.

Virtually invisible 66-foot jacketed wire element.

Highest Efficiency: Full-sized radiator with MatchmakerTM feed block that tests over 98-percent efficient. All your power gets radiated!

Best Match: NEC-modeled element delivers the same feed-point impedance on every band. Innovative new transformer designs yield exact ratio needed for a great match.

Super Balun: OCFDs need good baluns to block feedline radiation. Built-in bifilar-wound Guanella current-choke has over 30 dB of common-mode rejection on all bands. Kills pattern irregularities, RFI, noise.

Built to Last: UV-resistant marine-ABS feedblocks, stainless hardware, and Teflon® SO-238 connector ensure maximum protection from the environment.

Details at:
https://mfjenterprises.com/collections/mfj/products/mfj-2010?_pos=1&_sid=72bb3b337&_ss=r
---
Prizes #4, #5, & #6,

MFJ-566P, CW TELEGRAPH KEY, ON PLASTIC BASE
Yes MFJ has donated three of these keys to be awarded as prizes.

Specification & Description:

All Black ultimate light weight PLA camel back key.
Liquid smooth and lightning fast steel ball bearings.
Hardened steel pins and stainless steel screws.
Hard plastic base with screw holes and micro-grip feet.
Supplied with 3ft 3.5mm open ended stereo cable!

Details at:
https://mfjenterprises.com/products/mfj-566p?_pos=1&_sid=76b2f328c&_ss=r
---
Prizes #7, #8, #9, & #10,

MFJ-700B4 RFIsuppression chokes.
These RFI snap-on Chokes are selected for RFI suppression. Install on DC power line to keep ignition noise from your mobile rig and amplifier. Remove RF on cables and wires to your radio station. Isolate RFI on feedline from your station. Two-piece design, snap and lock securely around your cable. Install end to end along rigid cable or loop multiple turns with smaller soft cable. Typical Cable Use RG213/6X. Inside diameter 0.402 inches.

Details at:
https://mfjenterprises.com/products/mfj-700b4
---
Prizes #11, #12, #13, #14 & #15,

MFJ Atomic Alarm Clock

Unbelievable amount of features!

HUGE 1-inch high digits, automatically controlled for absolute pin
point accuracy, 24/12 hour selectable, DST on/off, dual alarms, 5-min. ID (snooze), fabulous blue backlight, month/date display, indoor thermometer (32-122 degrees F), moonphase, uses just two AAA 1.5V batteries (not included).

Details:
https://mfjenterprises.com/products/mfj-122rc?_pos=1&_sid=b133e5cb0&_ss=rJ
---
---
Heil Ham Radio has been manufacturing specialized headsets, microphones, and equalization products for the Amateur Radio market since 1982.

From the beginning, company founder Bob Heil knew that voice articulation is key to ham radio, both for emergency use as well as for the hobbyist. Heil Ham Radio's headsets for ham radio – from the Handi Talkie Headset to the Pro 7 – are a result of that level of concern for clearly hearing and transmitting the voice.

Website:

https://heilhamradio.com/
---
Prize #16

Heil Pro7

The Heil Pro 7 is an aviation-style headset designed for amateur radio use in high-noise environments.

The specially designed foam-gel ear pads provide 26 dB outside noise reduction and provide exceptional comfort.

A true dual-channel, stereo headset, the Pro 7 features an audio balance control that allows the user to adjust the level of the left earphone to match the right.

A unique phase-reversal switch greatly helps the listener "dig out" weak signals.

The latest version of the Pro 7 features a monitor jack, which allows a second operator to plug in headphones and monitor audio.

The flexible gooseneck mic boom on Pro 7s may be rotated for use on either the right or left ear.

Details:
https://heilhamradio.com/product/pro-7-2/
---
Prize #17

Heil BM-17

The BM-17 is a lightweight single-side or dual-side headset designed for Amateur Radio use. To accommodate different radio setups, the BM-17 is available with either a BM-17-Dynamic element or a BM-17-iC electret element designed to use with ICOM radios.

The speakers used in the BM-17 are very sensitive and don't require much AF gain from the transceiver. The frequency response is 200 Hz – 5 kHz with very low distortion.

The ear pads are replaceable acoustic foam.


Details:
https://heilhamradio.com/product/bm-17-2/
---
---
Here we have Nine Prizes donated by CWMORSE.US

A Family owned and run business.







Maker of Quality Morse Code Keys, Paddles & Equipment ~ Made in the USA!



Website: https://cwmorse.us/
---
Prize #18

CNC Machined Aluminum Pocket Double Paddle Key

Super Tough, Super Durable, And American Made!

It's Easy To Keep Clean Due To The PETG Carbon Fiber Cover.
Available With Or Without Magnets And Steel Base.
Built With Solid Brass Contacts, Stainless Steel Nuts Bolts & Washers.
Uses Nickel Plated Steel Springs For Tension & Gap Adjustments.
Super Smooth High Speed Action With Double Shielded ZZ Ball Bearings.
All Soldered Connections With Shielded Braided Copper Wire.

Details:
https://cwmorse.us/products/cnc-machined-aluminum-pocket-double-paddle-key?variant=43128577229059
---
Prize #19

Pocket Double Paddle Morse Code Key With Magnets

The Ultimate Lightning Fast Pocket Double Paddle Morse Code Key.
Super Smooth Action With Double Precision Self Lubricating Bearings.
Solid Brass Contacts With Stainless Steel Fasteners & Nickel Plated Steel Spring.
All Soldered Braided Copper Wire Connections.
With 4 Neodymium Magnets To Hold the Key To Steel!!

Details:


https://cwmorse.us/products/pocket-double-paddle-morse-code-key-with-magnets
---
---
---
---
Prizes #23, #24

My Key Mouse - Morse Code Key to USB Adapter

Yes two of these! New for 2022! Morse Code Key to USB Adapter!

Did you know that there is an ever growing list of Software and Apps that allow you to practice and/or learn Morse Code using Computers, Laptops, Tablets, Android and other devices? Truly a great idea, but, if you've ever tried using a mouse to send Morse Code, I am sure you'll agree that it is makeshift at best. But why?
Because It takes the right tools for the job!

To Send Morse Code it takes a Proper Built Key Or Paddle.
Now You can practice with a host of software and apps using your own device!
Details:
https://cwmorse.us/products/morse-code-key-to-usb
---
Prizes #25, #26

My Key Serial- Morse Code Key to Serial USB Adapter

Yes Two Of These! New for 2022! Morse Code Key to Serial USB Adapter!

Did you know that there is an ever growing list of Software and Apps that allow you to practice and/or learn Morse Code using Computers, Laptops, Tablets, Android and other devices? Truly a great idea, but, if you've ever tried using a mouse to send Morse Code, I am sure you'll agree that it is makeshift at best. But why?
Because It takes the right tools for the job!

To Send Morse Code it takes a Proper Built Key Or Paddle.
Now You can practice with a host of software and apps using your own device!

Details:


https://cwmorse.us/products/my-key-serial-morse-code-key-to-serial-usb-adapter
---
---


Click HERE do download the official voting Ballot